Dent & Ding Surgeon is not affiliated with any insurance Direct Repair Program (DRP). These types of programs often seek price breaks and other concessions designed to save insurance companies money and often facilitate less than high quality repair service for your vehicle. We will not sacrifice quality to return money to insurance companies in the form of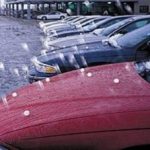 generous discounts with the expectation of future business. It is our stance that this activity only results in cutting corners that sacrifice quality. All of our hail repair work is performed to the highest standards and is 100% guaranteed! As the policy holder, your obligation is the amount of your deductible and remains that way wherever you decide to have your vehicle repaired. Don't become a victim of "illegal steering" to a preferred provider by your insurance company.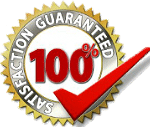 Please do the research and take your vehicle to who you choose. You will be much happier with the results.
It is important to protect yourself from "illegal steering." These practices are common and we at Dent & Ding Surgeon believe you should be fully aware in case you find yourself faced with such a situation. We are not trying to cast all insurance companies as criminals. Not all insurance companies follow these practices, but many do. You as the consumer should know that insurance companies work for their bottom line, not for you as the policyholder. We are committed to keeping you aware of all your rights and options when dealing with your insurance company. We hope the following information is helpful and is provided as an educational service for you to make informed choices about repairing your hail damaged vehicle.
By law, you have the right to take your vehicle to the repair business of your choosing. Some insurance companies may attempt to steer you or intimidate you into believing that they will not guarantee the repairs if you have the vehicle repaired by someone other than one of their preferred repair shops (DRP's). This practice is not only illegal but incorrect. Each repair business carries their own guarantees and warranties for completed repairs. Insurance companies cannot and will not guarantee or warranty work done by a repair facility! It is the individual repair business that provides these to you.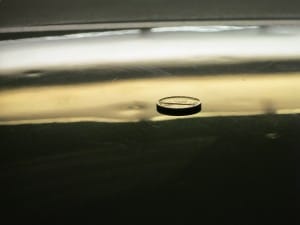 When you meet with the adjustor to assess the hail damage to your vehicle, make sure he or she views your vehicle indoors under fluorescent lighting or LED light source. Estimating hail damage outside often leads to missed or overlooked damage due to variable lighting conditions that exist outdoors. This can lead to under estimation. In these cases, where the estimate is under the final cost of repair, the repair business will file a supplement on your behalf for your insurance company to approve.
Depending on the severity of hail damage, the insurance adjustor will write the estimate to repair by use of PDR exclusively, conventional auto body repair, or by a combination of both. Many body shops are familiar with PDR but very few have trained technicians on staff. Most body shops rely on subcontracted  PDR businesses to complete these repairs. After a hailstorm, paintless dent repair companies come to town from all over the country.  Body shops use these companies to repair hail damaged vehicles brought to their shops. The lower the body shop can contract with these companies to complete paintless dent repairs, the more they profit.   If panels become so severely damaged, the body shop may need to remove that panel, straighten the dents, fill with putty and paint or just replace the panel and paint. What is important to note is that its not unusual to see a combination of methods utilized to complete repairs depending on the severity of damage caused by hail. Dent & Ding Surgeon is not a middleman company coming in from out of the area and performing sub contracted work.  We are a local business performing paintless dent repair and are here to serve you directly.  PDR will be preferred if possible due to cost savings to the insurance carrier.  Even if the insurance adjustor has figured repairs by means of conventional auto body restoration, many times PDR may still be feasible and successful. If there is any question as to the severity of damage, it is always advisable to consult with a PDR specialist first before making conventional body repairs. Only a PDR specialist will know what can and cannot be successfully repaired by means of paintless dent removal.
Another practice that can occur when you decide to take your vehicle to a repair facility of your choosing is you may be informed you will responsible to pay the difference in higher labor rates or repair costs. This is simply not true. Your insurer will pay what is "reasonable" and "customary" repair charges for work done at the repair facility of your choice.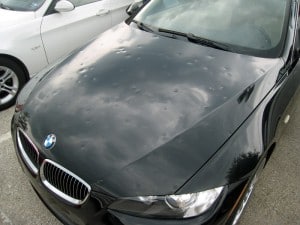 Your obligation again is limited to your deductible amount. The insurance company will pay for the remainder of the final cost of repair.
If you own your vehicle free and clear, you have the right to keep your claim settlement or have the damage repaired.  Do not inform in any way you may cash out on a claim. Many adjustors are well versed in writing light estimates if you are cashing out. Furthermore, you will never discover this since you are not repairing the vehicle. If you have received a settlement from your insurance company and your vehicle has sufficient value, it is always best to utilize the settlement to complete repairs for a couple of bona fide reasons. First, should future hail damage occur, you will need proof the former hail repairs were completed. Second, if your vehicle sustains future collision damage, the insurance company may reduce the claim amount by the settlement amount plus deductible due to the present value of the vehicle which still has hail damage. This could leave you with thousands of dollars out of pocket and possibly no car to drive if you cannot complete the necessary repairs. Therefore, it is always advisable to complete the hail repair in order to ensure a fair settlement and if future claim(s) become necessary.
Many times adjustors set up at a body shop (a DRP) to settle claims after a large hail storm. This is where another form of steering can take place as the adjustor introduces you to the manager of the body shop once the claim has been completed. This can place direct pressure on you to schedule your vehicle for repair. Take your time and ask around for recommendations from others.  You may want to consult a PDR specialist.  You do not need to make a decision on the spot!  The choice of where you take your vehicle is yours.
This information and more is available on the National Alliance of Paintless Dent Repair Technicians' NAPDRT website (www.napdrt.org/hail_damage_honestinfo.htm).
(Click Here) to print your Hail Claim Checklist