Dent & Ding Surgeon, LLC is a locally owned and operated small business located in Loveland, Colorado.  We are registered with the state and fully insured to provide paintless dent removal service and repair. Owner, Rick Renner places his name and reputation behind every repair completed. If you as the customer are not completely satisfied with our service- there is no charge! We are that confident in our team of experts that we offer you a "100% satisfaction guarantee".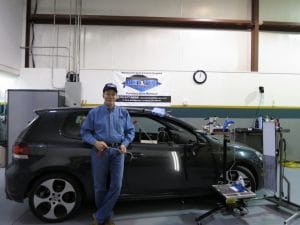 Rick has lived in Northern Colorado for over 21 years and became intrigued with PDR in 2002. He later started his dream business of providing paintless dent repair to an expanding retail market. Rather than cater to the saturated wholesale market of dealers and auto auctions or serve as a subcontractor to other businesses, he recognized the importance of taking care of the end consumer- the vehicle owner. The retail market demands a far higher level of quality but returns an unmatched level of appreciation and satisfaction for this service.
Rick trained with the absolute best in the industry- Mr. Tom Price (www.dentnetwork.com and www.pdrcoach.com and Mr. Myke Toledo (www.denttime.com). Both of these professionals have extremely successful businesses, trained hundreds of technicians, created and produced training DVDs sold all over the world and combined have over 37 years of PDR experience. These gentlemen have received numerous recognition awards and are highly regarded and known throughout the industry as leaders in the field of PDR. Rick invested and trained with the best, to be the best! He recognizes that trust, exceptional customer service and unrivaled quality of work are top priority and the keys to success.
Our Mission
Consistently provide excellence in Paintless Dent Repair with unmatched quality that creates complete customer satisfaction is the goal we set with each and every customer. In doing so, we will employ state-of-the-art tools, training, techniques, experience, skill and superb customer service that produce extraordinary results. Results that generate "contagious" excitement the customer will want to share with family members, neighbors, colleagues and acquaintances is the overall mission of our company.
If you have not seen paintless dent removal before, you will be amazed- "can't believe your eyes amazed!" Many of our customers describe it as- "like magic!"
Call today for your free estimate or text us your photos